TRADE NEWS
US APPROVES NATURAL BLUE
Time: 2013-09-11 Writer: choice_lantos
Chr Hansen's Natural Colors Division has launched a natural blue colourant for the confectionery and gum industry in the US.
The new natural blue colourant is based on Spirulina, a blue-green algae occurring naturally in tropical and subtropical lakes. Spirulina has a long historic record of accomplishment for many applications across many markets. It provides bright vivid blue and green shades and it can be used in various types of confectionery, including panned candy, and chewy candy, jelly gum/gummy candy, extruded candy and chewing gum.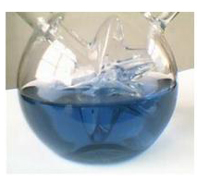 The US Food & Drug Administration (FDA) has approved Spirulina to be used as colourant in confectionery and chewing gum in the US and the colour is in full compliance with Federal Regulation.
"Consumers have been long awaiting a natural blue and green for the confectionery industry. Spirulina provides a radiant blue and a foundation for natural green blends," said Kurt Seagrist, senior vice president, Natural Colors Division, US.
Chr Hansen provides six liquid and powder product formulas, under the SweetColor product line for use in confectionery and gum. The products are safeguarded for micro and bio issues and verified by third party certified auditors.